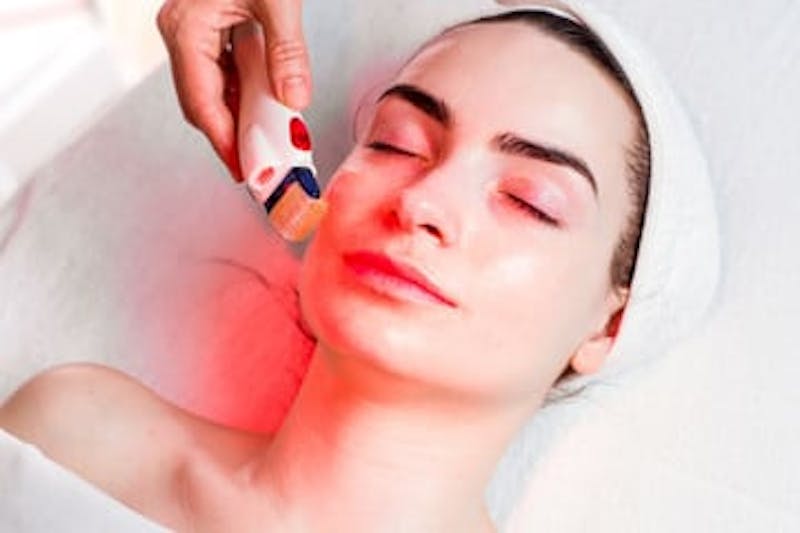 With the popularity of professional microneedling treatment, often called a "vampire facial," searches for dermal roller products and techniques have also increased. Because each form of collagen induction therapy relies on microneedles to create tiny channels in the superficial layers of the skin, there is a propensity among consumers to view these treatments as one-and-the-same. To do so would be a mistake. Here, we will discuss why.
Professional Microneedling
A professional microneedling treatment improves the appearance of the skin through percutaneous collagen synthesis or the induction of collagen production through controlled "wounding." This principle stems from the evidence of collagen proliferation after tissue wounds such as a cut or scrape. During microneedling, fine needles penetrate a precise depth of tissue at a vibration of several thousand rpms, stimulating fibroblast cells into the heightened productive mode.
Professional treatment is conducted with the use of topical numbing cream to facilitate comfort. The handheld applicator runs sterilized micro-needles vertically into the uppermost layers of tissue, creating a uniform puncture-pattern. Additionally, adjuncts such as medical-grade skincare products or platelet-rich plasma can be implemented to maximize the outcome of treatment. When micro-channels are open, topical solutions are better able to permeate deeper levels of tissue, which translates to more noticeable and long-term change.
Personal Dermal Rolling
Derma-rollers are hand-held mechanical devices designed for home use. This personal treatment involves rolling a needle-clad drum over the skin. The immediate problem that has been noted with this technique is the pattern of micro-punctures. Rather than a vertical insertion, a dermal roller is more prone to an angular entry, which increases the chance of tiny tears in the skin. Tiny tears do not mean greater collagen production; they mean tissue damage. The second problem with dermal rolling is that there is no adjustability of needle-depth, which means limitations regarding results.
The Bottom Line
The purpose of cosmetic treatments is to improve the appearance of the skin. Ultimately, treatments should also promote dermatologic health to promote more graceful aging. Dr. Levin is selective in her choice of services and is proud to offer microneedling as a safe and effective treatment for cosmetic improvement. Contact our Westport office at 203-557-6464 to learn more about microneedling.
Case ID: 3004